Equal parts pop, soul and rock 'n' roll, BEST NIGHT EVER is a Vancouver based band playing an intoxicating blend of original music. Meeting through performances with other artists, a mutual appreciation of each others distinct musical personalities developed and the band began writing captivating pop songs late in 2013. Simultaneously both a dance group and an outlet for deeper musical expression, the band draws inspiration from legendary artists like Michael Jackson and Stevie Wonder, and features rippling keyboards, syncopated guitar lines and soulful vocal melodies placed on a bedrock of vintage drum and bass sounds.

2014 saw the group become weekend staples at notable Vancouver nightclubs like The Roxy, Guilt & Company, and The Cellar, sharing the stage with the likes of Nick Gilder & Sweeney Todd, Bend Sinister, The Balconies, and Tonye Aganaba. They were featured performers at the Keys 2 Streets yearend invitational, guests of rock radio journeyman Todd Hancock's inaugural Indie Night concert series, and received radio airplay on 99.3 The Fox. Their dedication became increasingly apparent when they were announced as the first place winners of the Hard Rock Casino's ROCK THE MIC competition, beating out fifty other acts to take the coveted grand prize.

In 2015, the band release their debut album, a self titled EP, and had a placement of their song Dancing By Yourself in the feature film Female Seeking Male. They competed in and won the 2015 ROXY Launch Party, earning a chance to work with Juno-award winning producer Garth Richardson (Rage Against the Machine, Red Hot Chili Peppers) on an upcoming single. Also influenced by modern, genre-bending groups Snarky Puppy and Dirty Loops, they delicately balance raw, lyrical songwriting with moments of outright musical intensity and unabashed virtuosity. BEST NIGHT EVER blur the lines between intricate, poignant compositions and unforgettable dance-floor anthems.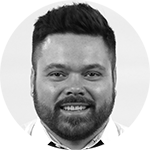 Patrick Gavigan
// Vocals
Patrick Gavigan is a vocalist, multi-instrumentalist and songwriter. He started singing in church choir at a young age . Driven by a no-boundaries approach to music he draws influence from a vast array of genres. "I just love great singers and musicians, it doesn't matter what style." BNE has him channelling his inner Stevie Wonder and Michael Jackson, with a helping of Rod Stewart and Ottis Reading. Soulful and edgy, he has a signature sound and a unique and powerful voice.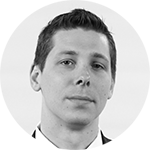 For over 20 years, James has been tickeling the ivories and captivating audiences by bringing his virtuostic style to a broad range of musical projects. Earning a Bachelor of Music in Jazz Studies in 2014, he has been a busy performer, composer and music educator in Vancouver for many years. His jubilant approach to piano and composing are highly influenced by Herbie Hancock and Robert Glasper.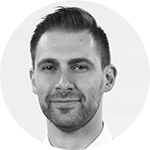 A musical chameleon, Alex loves pretty much all genres of music and especially everything guitar. He has a voracious musical appetite, with influences ranging from Django Reinhardt to Chet Atkins to Stevie Ray Vaughan. He takes it all in, digests it, and spits out his own unique take on what he believes to be the most perfect instrument in existence. See more at www.alexanderflock.com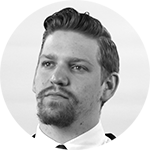 Justin is a multi-instrumentalist, composer and music educator born and raised in Vancouver, BC. As a member of the illustrious Semiahmoo Secondary jazz program, he played his first professional gigs on saxophone in his early teens and picked up the bass shortly thereafter. Alongside his work with BNE, Justin plays with jazz-soul stalwarts Tiny Havoc and jazz-thinkpiecers Last Ark Out. Originally inspired by grunge era rock groups like Soundgarden and Radiohead, some of hIs favourite artists starting with the letter S are Steely Dan, Stevie Wonder and Snarky Puppy.